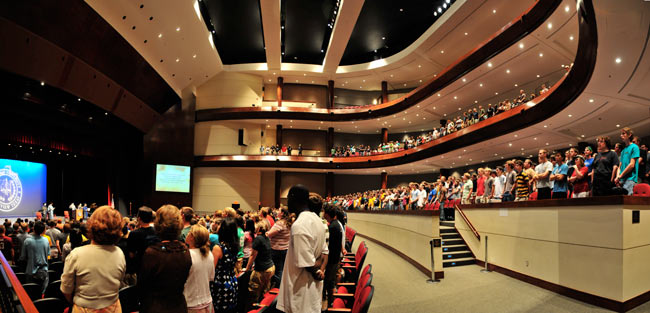 Frequently Asked Questions:
Click here to find answers to many of the most frequently asked questions about purchasing tickets and show information.
Seating Chart for 2020-21:
Detailed seating chart for the Belcher Center 2020-21 Performance Series available here.
Technical Information:
Lineset schedule and other technical information about the Belcher Center is available here.
The Mission Statement of the S.E. Belcher Jr. Chapel and Performance Center:
In support of the mission of LeTourneau University, our purpose is to provide a venue for the LeTourneau University community to gather for worship and activities; provide a meeting space for other organizations; and to present and facilitate cultural and entertainment opportunities for the broader region.
Volunteer at the Belcher Center:
If you are interested in volunteering at the Belcher Center, please contact Kurt Thomas at KurtThomas@letu.edu.
Lobby Rentals
Hold your reception, meeting, or other event in the Belcher Center's lobby facilities. See the brochure below for details.